Building Regulations – the bits homeowners need to know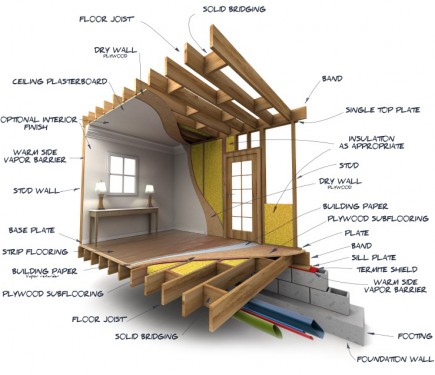 The new Building Regulations dated 31st October 2012 are statutory requirement by which you need to comply with for your home extension or renovation project.  They impose certain functional and performance requirements and you should employ an Architect, Surveyor, and or Structural Engineer to provide drawings and structural calculations for submission or support of your building regulations application.
These applications are split into elements: drainage, foundations, floors, walls, ceilings, roofs, windows, doors, insulation, ventilation, plumbing, electrics and so on.
Now I could go on about the approved documents (Part A – Part P), but I have created YOUR BUILDING REGS, a low-cost how-to-package, if you want the full details.  Frankly, the building regulations are complex and are soon to be upgraded. No real concerns just a government drive for better standards of buildings and rightly so.
Q&A
How many ways to submit an application: 2

Full Plans; and
Building Notice
The 'Full Plans' route is a two stage process but both end in the same result. As a professional, I prefer the 'Full Plans' approach, it provides customers with a technical assessment with drawings and calculations so that all the risks are known.  Builders generally prefer the building notice approach as it allows a quick start of the building works. The costs are the same but the risks to the customers can be hidden leaving them exposed to cost challenges!
How many methods of getting an approval: 2

Your Council's building control department; and
Approved inspectors (Private Company)
The only reason not to submit a householder application to your local council is if your project is complex or you have problems with a specific Building Control Officer (BCO).  However, council building control departments are under increased pressures with staffing and budgeting etc, and we predict approvals going the way of the private sector!
How long does it take to get an approval:

Full Plans – 4/5 weeks
Building notice – works period plus 2 weeks for admin
The 'Full Plans' approach is a 2-Step process.
Step 1: Full Plans – payment on application and approval in say – 4/5 weeks. Note: on smaller works the council may want the full fee on application.
Step 2: Inspections – payment and approval on completion of the building works.
The flowchart link below will provide you with a more detailed outline of the process: yourbuildplan.co.uk/BuildingRegs_Flowchart.png
How much does building control approval cost: depends!

g. loft conversion – max 40 sq m
Approximate Costs
Full plans – 1/3 – £150.00 + VAT
Inspection – 2/3 – £300.00 + VAT
                 TOTAL = £450.00 + VAT
However, check your council building regulations website for the fee charge table for your actual costs.
For a more detailed FREE guide check out – yourbuildplan.co.uk/Building_Regs
In summary, all home extensions and loft conversions need building regulations approval for the building works. Even minor home improvements like plumbing and electrical changes for a new kitchen or bathroom technically require an approval. Fast track it with your builder with a building notice at your own risk, or go down the professional route with a 'Full Plans' application. Both have their place.